Zichtbaarheid in zoekmachine
En terwijl consumenten steeds vaker online winkelen, zoeken ze niet alleen meer naar cruciale benodigdheden, maar ook naar vrije tijds artikelen zoals speelgoed, kleding en sport artikelen. Hoewel dit voor worstelende bedrijven een kans biedt om opnieuw contact te leggen met consumenten, kunnen velen het zich niet veroorloven om dit op grote schaal te doen.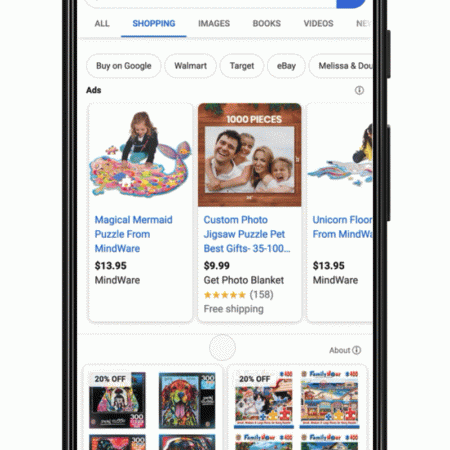 In het kader van deze uitdagingen gaat Google verkopers de mogelijkheid bieden om gratis te verkopen op Google. Vanaf volgende week bestaan ​​de zoekresultaten op het tabblad Google Shopping voornamelijk uit gratis vermeldingen, waardoor verkopers beter in contact kunnen komen met consumenten, ongeacht of ze op Google adverteren of niet. Met honderden miljoenen winkelzoekopdrachten op Google per dag, weten we dat veel retailers bepaalde artikelen wél op voorraad hebben en klaar zijn om te verzenden, maar helaas minder goed online vindbaar zijn.
Voor retailers betekent deze wijziging gratis blootstelling aan miljoenen mensen die elke dag naar Google komen voor hun winkelbehoeften. Voor kopers betekent dit meer producten uit meer winkels, vindbaar via het tabblad Google Shopping. Voor adverteerders betekent dit dat betaalde campagnes nu kunnen worden uitgebreid met gratis vermeldingen.
Gratis Adverteren Google Shopping in Nederland
Deze wijzigingen worden vóór eind april van kracht in de Verenigde Staten en Google streeft ernaar dit voor het einde van het jaar wereldwijd uit te breiden. De verwachting is dat Nederland in kwartaal drie aan de beurt is.
Oplossingen tijdens deze crisis zullen niet snel of gemakkelijk zijn, maar Google hoopt bedrijven een opluchting te bieden en de basis te leggen voor een gezonder winkelecosysteem in de toekomst.
Hulp bij zichtbaar worden in Google Shopping?
Weet u niet hoe u in aanmerking komt voor een vermelding in de gratis of betaalde resultaten van de Google zoekmachine en in het bijzonder in het tabblad Google Shopping? Wij helpen u graag. Laat het ons weten door contact op te nemen via het contactformulier. Wij beantwoorden uw vragen binnen 24 uur.